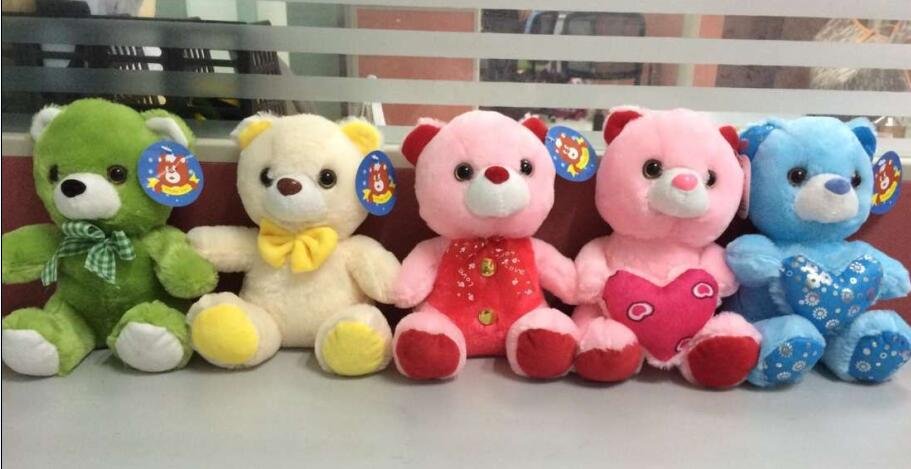 Back to Basics of Teddy Bear
Whenever you start thinking of a gift to buy for a significant purpose, you most probably will find yourself drifting towards a very complicated thought process to reach what the best gift could be. The more you think, the more you drift away from traditional gift-giving. You may find yourself trying to think of an increasingly detailed, thoughtful, fun, and unique gift, whether it's a gift for your notable person, your friend, or best friend, a member of the family, a coworker, or a business associate. You'll always find that your first thought is to avoid giving a traditional or usual gift.
But the truth is, with most situations, it's always just the thought that counts for a gift! It's important to note that only a specific gift idea. Type of gifts classified as old, traditional, or not unique doesn't mean that it lacks quality. The gift that can be an essential addition to someone's life because of its emotional and not the material value.
This way, you shouldn't let yourself get too caught up with trying to come up with the unique gift idea. Sometimes, it's not a bad idea to keep things simple. Go with the traditional way and opt for a beautiful little gift without overthinking or spending too much money.
Why a Teddy Bear Makes for a Great Gift Choice
One of the gifts that are very underrated in the world of gift-giving is the gift of teddy bears! You might be surprised to find out that teddy bears are one of the most practical and fun gift categories to choose from. There are so many ways teddy bears can make a wonderful gift, and there are plenty of reasons for that. Lots of people just dismiss teddy bears as a simple toy for children. Well, we're here to change your perspective entirely!
The first reason that people ignore teddy bears is the fear of the teddy bear not being suitable for the person. Receiving the gift or the occasion celebrated is matters the most. People seem to think that teddy bears are acceptable as gifts only for small children, but that is not necessarily true. If you are buying a gift for a small child, mostly you shed the teddy bear because it's too traditional. Well, it's not! Children will enjoy receiving a teddy bear.
Teddy Bear is for all ages!
Many things you can do to transform as a gift but the teddy bear from a mere child's toy to a valuable contribution. By customizing how the bear looks, you can send different messages with it!
For example, if someone has just graduated, you can customize a cute looking graduation costume for your essential other meaningful who has a specialty like reading or something similar. Customers can customize the teddy bear to resemble the usual outfit differently. While reading a tiny fabric book also. Another good idea with a sweet recorded message that can play from a built-in speaker. If you are using it as a corporate gift, you can customize it by making it wear a tiny t-shirt with your company logo on it.  You can shape it as it performs an activity or holds an object relating to your business.
What to Look For
Size is significant while choosing your teddy bear gift. If you are buying it for a child, it's better to have a somewhat bigger size so that the child can enjoy playing with it. In the case that you are buying it for other purposes, you should preferably choose a smaller scale. It can be easily handled and placed anywhere for the mission of showcasing it, or just simple decorating. Having a medium or little size teddy bear will make it more practical and fun for the person who receives it.
It's important to note that the quality of the teddy bear is a significant factor to consider. In some cases, specific materials of cheap teddy bears can cause allergies to children and adults. Be a reason for attracting insects and large amounts of dust and dirt with the right supplier and manufacturing standard or customized teddy bears. You can find a good quality teddy bear with the requirements you want precisely and for an excellent price.
Price is another big plus about picking teddy bears as a gift. Teddy bears are thoughtful gifts that people can appreciate for a long time.  It doesn't mean it's a pricey item that makes a difference always. While you might expect to pay a little more if you are customizing the teddy bear still pretty affordable. It's within a reasonable price range compared to other less traditional gifts.
Fun, Easy, and Heartfelt
Another good thing about teddy bears is the fact that you can choose from a variety—many colors, sizes, and shapes, which makes the process all the more fun and easy. You will always be able to find the right combination that suits your taste as well as the taste of your intended recipient. Additionally, this variety also guarantees you the aspect of uniqueness that most people who want to find gift ideas are looking for.
In case you are buying more than one gift for a person. You can also easily pair the teddy bear with another, a more specific gift in case you want to give an expensive gift to someone. It will add to the heartfelt and thoughtful nature of your gift. Rollupkids is known for supplying quality mini stuffed animal teddy in bulk at great prices.
So what are you waiting for? Get back to basics and let go of the unnecessary extravagance of expensive and pretentious gifts. Start your shopping for the next teddy bear gift as soon as you can. High-quality teddy bears make for a fun, thoughtful, and affordable gift options which can be suitable for any occasion, any age, any gender, or any personality. So if you think of the right way to customize your teddy bear gift, it's a straightforward and easy process from then on.